Smart USB Security Camera Charger
Save

$0.00
Save

$-64.95
Original price
$64.95
-
Original price
$64.95
Tired of expensive, bulky, and extremely obvious surveillance cameras?
Mr. Surveillance is here to offer you one of the most advanced security cameras on the market, that's compact into an ordinary USB charging block. A 2-in-1 solution that charges any USB device while still recording up to 4k HD videos.
No signs of telling this apart from a regular charging block. Now you can secretly record pictures and videos while charging your phone or other devices at the same time. No one will know!
✔️ Access live view and stream instantly from your smartphone
✔️ Record HD video & audio 
✔️ Motion detection alert notifications straight to your phone
✔️ Incredibly powerful yet extremely discreet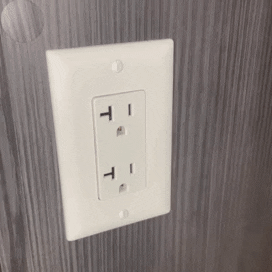 🔔GET ALERTED WITH MOTION DETECTION, LIVE STREAM REMOTELY. PLUG AND PLAY.
An undetectable solution that captures hours of recording that you can access live from any device or review later. Quick and easy set up via Wi-Fi, and live stream from anywhere at any time. The built-in smart motion sensor technology sends instant alerts through the app or email whenever it detects any suspicious activities. 
👀HAVE YOU EVER SEEN ANYTHING LIKE THIS BEFORE? WE KNOW THEY HAVEN'T. 
Suspect your significant other is cheating on you?
Suspect someone is stealing from you?
Want to keep an eye on the kids/pets while you're away?
And endless more possibilities...
Get the answers you've been dying to figure out for your peace of mind. Simply download the app, plug, and play.
😰NO ONE SHOULD HAVE TO GO THROUGH THE FEELING OF BEING UNEASY.
Know your loved ones or belongings are safe through this mini invisible camera, concealed in a regular charging block.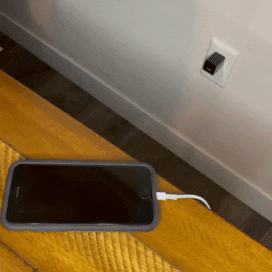 🔹 PLUG AND PLAY. Extremely easy to set up.
🔹 COMPACT DESIGN. Smart. Durable. 
🔹 UNDETECTABLE. Portable and invisible even upon close inspection.
🔹 MONITOR your belongings, kids, nannies, pets anywhere.
Use this security camera as a baby monitor, pet cam, or to relieve the burden of feeling uneasy while you're away anywhere - at work, on vacation, or even on a business trip.

👍REAL-TIME VIEW: Instant live streaming and playback loop recordings at any time.
🌐SMART WI-FI READY: IP camera connects online to Wi-Fi as well as offline with SD card.
📱FULL CONTROL: Monitor from any iOS/Android device through the app available on the Apple and Playstore.
📹MOTION & LOOP RECORDING: Accurate video motion sensor technology that alerts any movement and suspicious activity!
✅ Portable and Discreet - Looks Like Regular Charging Block
✅ Full HD 4K Video Recording
✅ Real-Time Live Stream On Any Device
✅ Adjustable Motion Detection + Unlimited Continuous Loop Recording
✅ Live Phone/Email Notification Alerts
✅ Night Vision w/ Infrared Technology
✅ 100% Wireless
✅ No Battery Required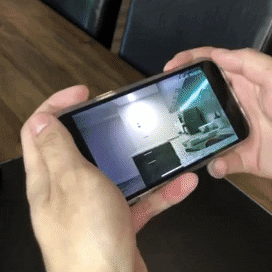 SPECIFICATION(S):
Video Format: AVI
Video Encoding: M-JPEG
Video Resolution: 1920X1080p
Video Frame Rate: 30fps
Image Ratio: 16:09
Battery Type: Built-in Polymer Lithium Battery
Battery Capacity: 80mAh
Charging Voltage: DC-5V
Storage Support: up to 32G TF card
Support System: for Windows me/2000/XP/2003/Vista; for Mac Os. Linux
Product Size: 55*30*30mm
PACKAGE INCLUDE(S):
NOTE: If you order now, we'll throw in a complimentary 8GB SD Card along with your order!
FAQ:
Can you watch live from your phone or do you have to take the SD card and watch the recording from it?
Yes! Our Camera Charger has a built-in 2.4hz WiFi connection that you can connect to the LookCamera app on the app store. You can also take out the SD card to manually view your recordings.

Can I record without plugging it in?
The camera will only work and be powered when connected to an electrical outlet.
How long does the battery last when it's not plugged in?
For the increased functionality of the camera charger, it does not have a built-in battery, it is powered through an electrical outlet.
Does it work for PC or Mac?
It is compatible with both PC and Mac
What app is used for the camera?
We use the LookCamera app available on the app store.

Yes! It records at 1080p resolution at 30fps, with an average 75° viewing angle.
Do you have to use the same wifi network as the plug on your phone?
No! You can use two separate networks on both devices, as long as the camera is connected to a 2.4GHz band.
Is the camera password protected?
Yes. You can set and change the password to anything you like. The default password is 123456.
Why won't the Wi-Fi network show up when the camera is plugged in?
Sometimes it takes a couple of minutes for the WiFi network to show up. If it doesn't, press the reset button until the light indicator resets the device and lets the device reboot and the camera network should show up.
Does it come in discreet packaging?
Yes, that is the whole point! We purposely did not include any branding material so that nobody will know what is in the actual package until you open it.
We provide fast shipping options for our customers in the USA, which range anywhere from 2-7 business days with an additional 1-3 day processing time, depending on which shipping method you choose.
To learn more about our shipping policy, click here.
The customer has 30 days after receiving the item to initiate a refund. This can be done by emailing our support team at support@mrsurveillance.com.
To learn more about our refund and returns policy, click here.
We accept all credit card brands that are accepted by Stripe and Paypal. We use Stripe as our credit card payment processor and gateway. We also offer PayPal checkout as an additional payment option. These cards brands and their respective logos can be found in the footer of our website.
We accept payment via the following methods:
Visa
Mastercard
American Express

UnionPay

Discover
JCB
Diners Club
PayPal
Please reach out to our incredible support team by sending an email to support@mrsurveillance.com or by filling out the form in our Contact Us page.
Our business hours are from Monday - Friday from 9am to 5pm CST. You should usually receive a response within 1-2 business days.

Mailing Address:
1109 Washington St
Pella, IA 50219
Phone:
(515) 518-8814